uTAFS Windows Installation
Firstly, download the file with ".exe" extension from the source given to you. While downloading, windows may give the warning shown below. Select "......" by clicking the arrow button.
​        
  As the download ends, please follow the instructions:
When you run the downloaded file, Windows may give another warning. Please click on "More Info" button.
2. And go on by clicking "Run Anyway".

    3. Then, click the 'Next' button.
        4. On the "License Agreement" screen, click the "I Agree" button.
        5. You must choose a suitable "Destination Folder" by browsing, then click "Install".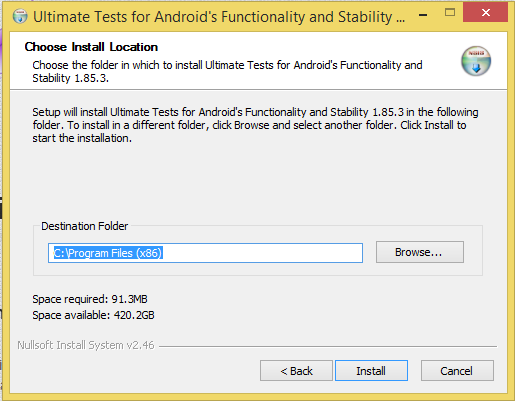 6. To end the procedure, please click "Finsh" button when it appears. If you want to run the program immediately, you may check the cell for "Run Ultimate Tests for Android's Functionality and Stability x.x.x", Now uTAFS is ready for using.
        7. You may download the Qualcomm USB Driver from  here .
        8.You may download the Mediatech USB Driver from  here .